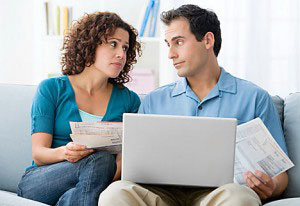 A payday loan is a short-term loan of usually no more than £1,500 to £2,000. Available online and from payday lending stores, this financing is relatively easy to obtain because it typically does not involve a credit check. However, interest rates of hundreds or even thousands of percent make this very expensive borrowing. Overdrafts can carry an equally high rate of interest. With an overdraft, a bank account holder can spend more than the account balance, to an agreed limit, and interest is paid on the overdraft.
If a payday loan is not repaid within its initial term, the loan is rolled over, accumulating interest and other charges. Some borrowers take a new payday loan to repay an existing one, continuing to carry the debt. What began as a small loan can grow to an amount that the borrower can never repay. Some people allow payday loan interest and fees to accrue, hoping that the lender will not pursue the debt. In reality, payday lenders can be very aggressive about recouping money.
More people are getting themselves into debt with payday loans. Some are under financial duress before applying for these short-term loans. It is easy to get caught in the rollover cycle but a debt charity can help handle the situation. Failing to repay a payday loan is a breach of contract but is not subject to criminal charges. However, it can affect the credit score and the debt may be turned over to a collection agency for further action.
A bank may impose a fee for establishing an overdraft feature on an account. It may also charge a monthly fee for the overdraft. This can make overdrafts very expensive if they are not quickly repaid. The building society or bank may take all the money in the bank account to clear the overdraft. If an unauthorized overdraft is taken, the account holder may be charged a high rate of interest and a penalty.
Banks may charge overdraft users for issuing payment reminder letters and for cheques or direct debits to the account. The bank may even freeze the account until the overdraft is repaid, prohibiting the accountholder from accessing any money, including wage payments, in the account. If an individual is unable to manage overdraft repayments, the bank or building society should be contacted immediately.
Did You Realise?
By filling out our QUICK & EASY FREE DEBT HELP FORM you can be certain of friendly debt assistance, which can give you peace of mind and confidence that a resolution to your debt issue is, in fact, possible.
Banks must comply with the Lending Code imposed by the Lending Standards Board. They may be willing to freeze interest and charges, allow a longer repayment period, adjust the minimum required payment, or permit a temporary repayment holiday. If missing repayments becomes regular practice and the bank is not informed of the financial situation, the institution may take the accountholder to court for non-payment and obtain a County Court Judgment (CCJ).
Based on the consequences of failure to repay payday loan and overdraft debt, consumers should make haste to repay this money as soon as possible. This avoids additional interest, penalty charges, calls from collectors and CCJs. By not borrowing more than they can afford, consumers keep their finances under control.