When people think of weddings, they think of going into debt. Though weddings typically come with expensive price tags, they do not have to. With some planning and research, a bride-to-be can have a wedding that is elegant, yet affordable. A little flexibility and a creative eye is all it takes to have the best wedding on a tight budget.
Here are some tips from the experts to make your wedding a hit without taking a hit on the wallet:
Planning is arguably the best way to control wedding-related expenses. Getting started early provides enough time to find coupons and sales and do some comparison-shopping. Do-it-yourselfers can make their own wedding invitations and favours and even do their own decorating.
This is much less expensive than hiring an invitation designer and wedding planner. However, if the wedding will be a large one, consider a wedding planner because this professional may be able to secure bulk industry discounts.
Seasons make all the difference costs wise
It is much less expensive to get married during the winter than in the summer months. Avoid Christmas, New Year's, and Valentine's Day because wedding costs skyrocket during these holidays. Purchase lights, favours, and decorations after these holidays to get the best prices. Shop around for a venue because many locations will have availability. Consider reserving a private room at a restaurant rather than renting a hotel ballroom because this will be less expensive.
Getting married on a Friday or Sunday will reduce prices even more because Saturday is the most popular wedding day. Use the telephone or email as the save-the-date announcement. It is easy to design this announcement online using an electronic invitation site that offers pre-made templates for various occasions. After getting the save-the-dates out, begin working on the invitations. Software programs and special paper make self-design an easy task.
When looking for a dress, broaden the focus to more than just traditional wedding dresses. Browse the eveningwear section at department stores and look at bridesmaid dresses. These may be just as elegant but much less expensive than a standard wedding dress. Search online for unwanted wedding dresses or those that were worn only once.
Sample sales are also great places for finding designer dresses at low prices. Look for these during summer and winter months and get there early to find the widest selection.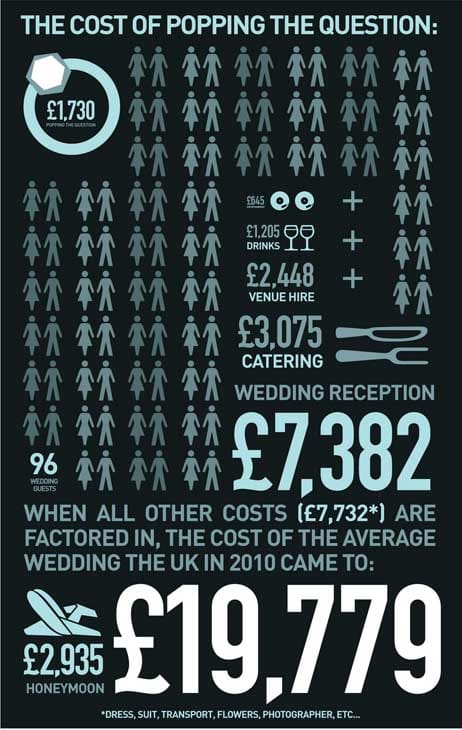 Do you really need more jewellery?
Do not waste money on wedding jewellery—borrow it from a family member. This can be the "something borrowed" for the wedding. Have the groom and groomsmen rent their suits because they will probably not wear the outfit again anyway. If the wedding is less formal, have them wear regular business suits of the same colour. All eyes will be on the bride anyway!
Save money on decorations by using candles in place of some flowers. Choose flowers that are grown locally and are in season. Instead of a bouquet, carry a single stem. Select flowers based on the color scheme, not particular types, because this offers the flexibility to choose more affordable blooms that look just as attractive.